The Pocky Shop | Pocky x Home Depot
360 Immersive Campaign, Branding, Interactive Popup
Home depot is a place where we spend hours in, sometimes kids need a space to spend those countless hours and parents need a snack to munch on while they make those big decisions. Through the use of a popup workshop in Home Depots, Pocky will celebrate a brand new flavor! Shoppers can try out the new Pocky flavor with various display boxes of samples of Pocky littered throughout the store. 
The Pocky Shop is a space where kids can hang out – use the pocky sticks as a means to creating structures. For those who can't attend the workshops or have time to visit home depot, can still find the flavor at local shops and have the opportunity to participate in a social media challenge. 
This campaign utilizes traditional ads to bring awareness to the pop-up, each ad using the actual Pocky Sticks to create the structures. There is a child-like essence to it with the addition of the paintbrush swoosh and small doodles. The elements used in the ads carry through into the workshop's space, materials and accompanying campaign awareness video.
The Pocky Shop is introducing Pocky's new flavor: Dark Chocolate and Mandarin.
The packaging is a limited time offer in Home Depot while The Pocky Shop is in stores.
This campaign starts off in the traditional space with media to promote The Pocky Shop
at Home Depot and the new flavor. The imagery is presents the new flavor of
Pocky in various buildable structures.
The branding of the campaign steps into Home Depot and guides shoppers to 
The Pocky Shop through various posters and way-finding.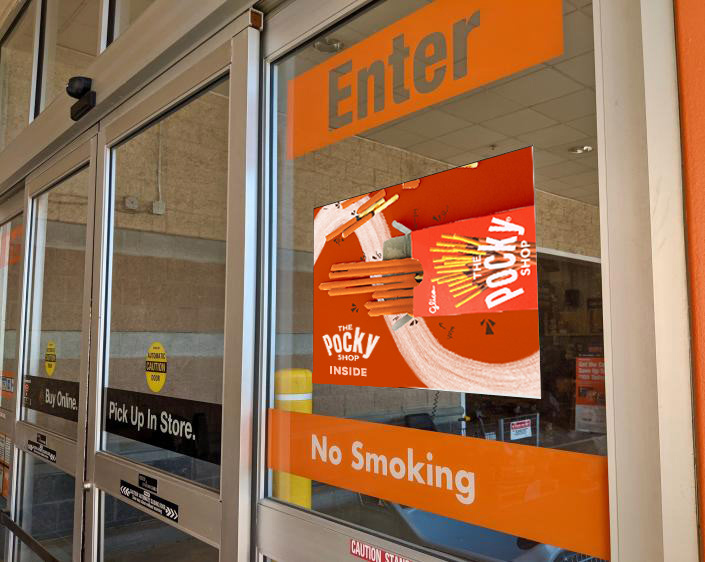 The actual Pocky Shop space in Home Depot, kids can stay in this area and complete
a Pocky building related activity while their parents take their time making big decisions.
The Kit that is given out both on the Home Depot website and in The Pocky Shop, including: the new flavor of Pocky, a Pocky Shop apron and an activity that can be followed.
We didn't forget about the Home Depot shoppers!
The Pocky Shop flavor can be found around the store in various small display,
the treat is available to shoppers to snack on as they make some big decisions.
Not everyone has the time to make it over to The Pocky Shop, here is a social
media challenge that everyone can participate in – ages of all age can take part.
Anyone can order a free kit from the Home Depot website
and post their creations with the #ThePockyShop